22 prizes up for grabs!
Which star prize would light up your skies: an all expenses-paid trip for two to see the spectacular Northern Lights in Finland or having £3000 tax-free cash to do with as you wish? The choice could be yours! There's another 21 prizes ready to be won, and each ticket is just £1 to enter. Get yours today to be in with a chance of taking one home...
1st
prize
£3000
or a Northern Lights holiday
What you could achieve for animals
Daria and her newly born cubs, Tasha, Lulu and Kyle, were found wandering a village in a desperate search for food in Darmanesti, Romania in June 2023. Daria was limping badly. At some point, she'd suffered a severe fracture to one of her front legs which hadn't healed properly. Thankfully, the local authorities called our partners at the Libearty Sanctuary who took in this little bear family permanently.
Libearty Sanctuary is now Daria, Tasha, Lulu and Kyle's forever home where you can help make sure they can live in peace this winter. Especially as every ticket you buy – and any extra gift you are able to spare – could help fund their food and care.
In fact, funds raised by our Wishes Raffle could help to care for all 119 bears at the Libearty Sanctuary, alongside other animals in need all over the world. So if you choose to play, you'll know you're also helping to make these bears' wishes come true.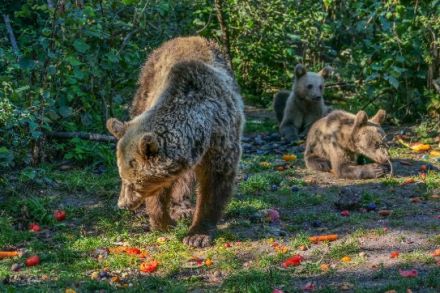 1.

Choose the number of tickets and complete the secure form and payment
2.

Check your inbox for your raffle entry number(s)
3.

Lucky winners will be contacted within three weeks of the draw
Tickets cost £1 each and entering online is easy, safe and secure.
Closing date: 05 February 2024. Draw date: 14 February 2024.
For full terms and conditions, please click here.
The raffle is only open to residents of England, Wales, Scotland and Northern Ireland.