Make your hopes and dreams come true for 2022 by entering the Sense New Year raffle… you could win our top prize of £4,000!
We'd like to give you the opportunity to get your New Year off to a flying start. Take part in our raffle today and you could be the lucky winner of £4,000!
You'll also be in with a chance of winning our second prize of £500, a third prize of £250, and ten runner-up prizes of £50. What's more, a further 10 lucky supporters could win their very own Teddy Sense!

£4,000
£500
£250
10 runners up prizes of £50
Plus: 10 Teddy Senses to be won
Ernie and his twin brother Ted are ten years old. Ernie has Down's syndrome and faces many challenges. Both lively and active boys, they found lockdown tough, but your support of our virtual activity sessions helped keep them smiling, as well as learning and developing through play.
With Sense's help, Ernie's confidence has grown so much that he now happily goes to the 'stay and play' club at the Sense Woodside Family centre, without his twin brother by his side. Your support has given Ernie opportunities to practice his speech at the Sense centre and online. He can now say what he wants to say, rather than someone else translating for him. Ernie loves going to the centre, but he also still loves our virtual sessions. With your help, we hope to continue to offer them for families.
We hope you will enter the Sense New Year raffle today and consider making an additional donation if you can.
Thank you for your support, and good luck!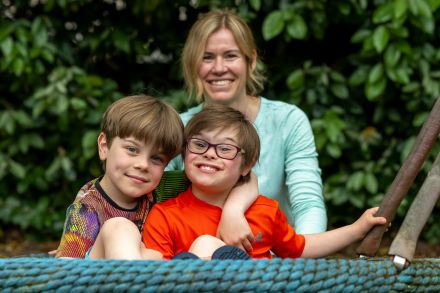 1.

Choose the number of tickets and complete the secure form and payment
2.

Check your inbox for your raffle entry number(s)
3.

Lucky winners will be contacted within three weeks of the draw
Tickets cost £1 each and entering online is easy, safe and secure.
Closing date: 17 March 2022. Draw date: 24 March 2022.
For full terms and conditions, please click here.
The raffle is only open to residents of England, Wales and Scotland.